Blocks
You will notice boxes on the right-hand side of your main course overview page. These are called Blocks, located in the Block Pane. Blocks are a key feature of Moodle. They contain supplementary information to what's contained in the center of the page. Some blocks help you navigate through a course, display information, show upcoming events, and so on. There are many types of blocks available in Moodle, and each course may vary slightly as to which blocks are being used.
Please familiarize yourself with this list of basic Blocks you'll see throughout your courses. We will discuss several of these in depth later.

Activities Block - You will see this Block on the home page of your course. It gives you an overview of all available activities listed within your course, and quicklinks to access those activities.


Calendar Block - A small calendar view of events relating to your course, such as due dates for Assignments or Quizzes.


Featured Event Block - A Walsh-Sponsored block pertaining to important non-course related events, such as a Career Fair.


Upcoming Events Block - Contains a list of upcoming activities due, such as Assignments, Discussion Boards, or Quizzes.


Recent Activity Block - A "History" of recent activities viewed for an additional shortcut back.


Dashboard Menu - When you first log into Moodle, you can use the Dashboard Menu, in the upper right corner of the screen, to adjust and edit your profile settings and preferences, view or upload personal files, and also access the grades for all your current courses.
Blocks will only appear to the right side of the screen while on the main course overview page. the Dashboard Menu is persistent throughout Moodle. Activities may appear differently depending on the variety of activities utilized.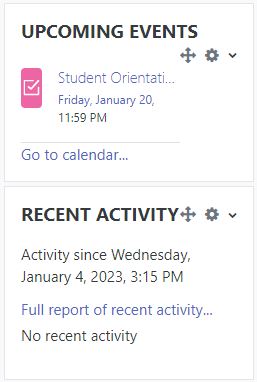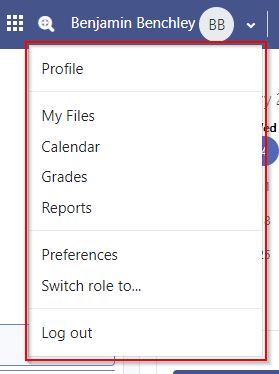 © Walsh College, All rights reserved